Hand-Painted Stone Tile Murals for salefor kitchen backsplashes, decorative tile, interior decorating, wholesale to architects, interior designers, and contractors.  Italian, Tuscan, lemons, poppies, wine, grapes, gourmet, southwest, fruit. Artist Sarah McAnerny, Tre Sorelle, Tres Sorelle, Sarah McAnery, three sisters. Italian Tile Murals, Portuguese Tile Murals, Spanish Tile Murals, Murials, Murels, French Country, Tuscan Poppies, Italian Lemons, Home Accessories, New Build Vendors, Art for the Home. Scottsdale, Pine, and Phoenix Arizona based artist studios. Custom tile, kitchen tiles, tile coasters, tile trivets, tile borders, floor medallions. Our themes include: animals, elephants, fruit, gourmet, wine art, wine cellars, Napa, Tuscany, Provence, Wine Country Vineyards, Scrollwork, Fleur D Lis, Contemporary Asian, Nautical, Tropical, Palm Trees, Mediterranean, Mexican, Southwest, Desert, Roosters, Mountain Lake, River, and Lodge.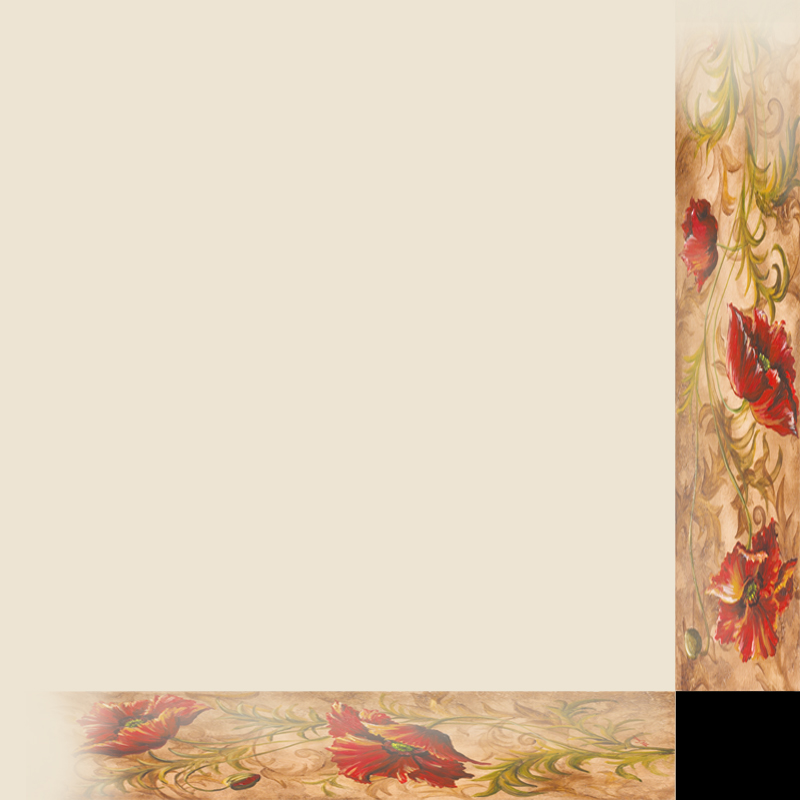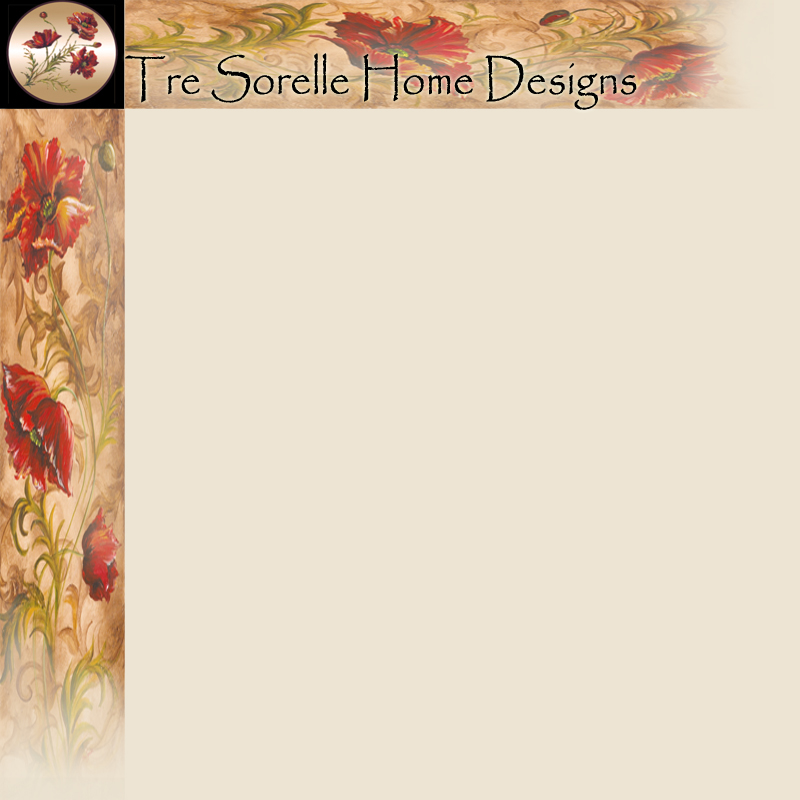 Gorgeous Art and Design for Life and Home

Call to Order: 602-361-5379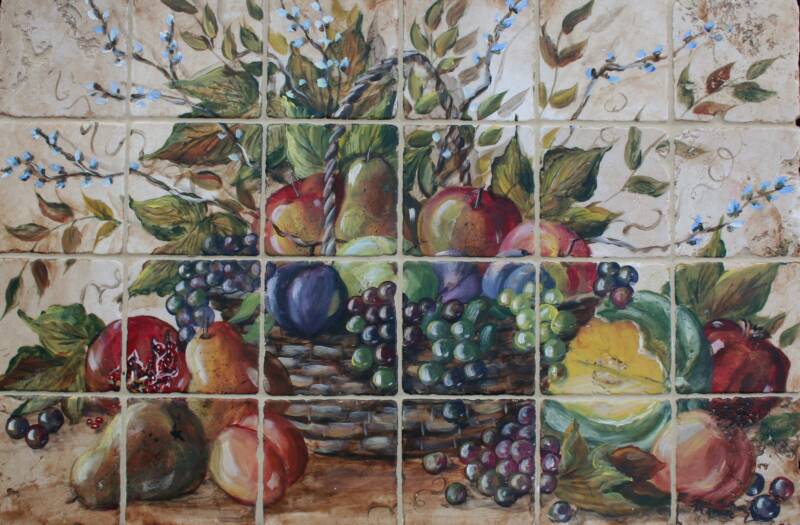 "Antiqued Tuscan Hills with Scroll Border"

36"x24"  on tumbled marble 6" tiles and 3"x6" border tiles

$1160

"Basket of Fruit" Tile Mural

24"x16" on tumbled marble

$880

Click Image to View or Purchase

"Italian Lemon Topiary with Three Wine Bottles"

32"x20"  on tumbled marble 4" tiles

$1040 (2" framing tiles not included)

"Fruits of the Vine" Tile Mural

24"x18" on 6" tumbled marble

or

24"x20" on 4" tumbled marble

$910

"Tuscan Poppies Still Life"

24"x20"  Tile Mural on Tumbled Marble

Price $910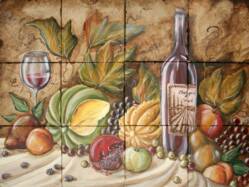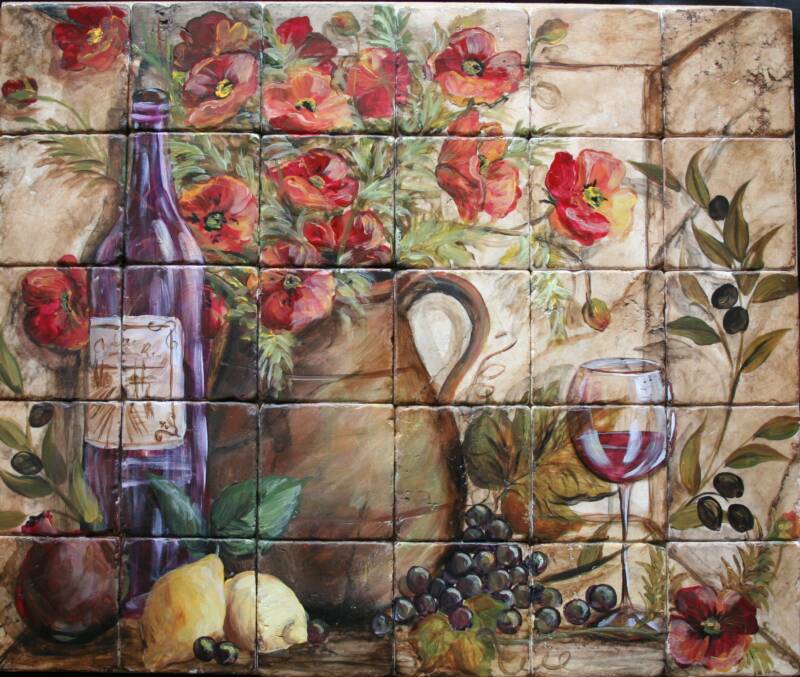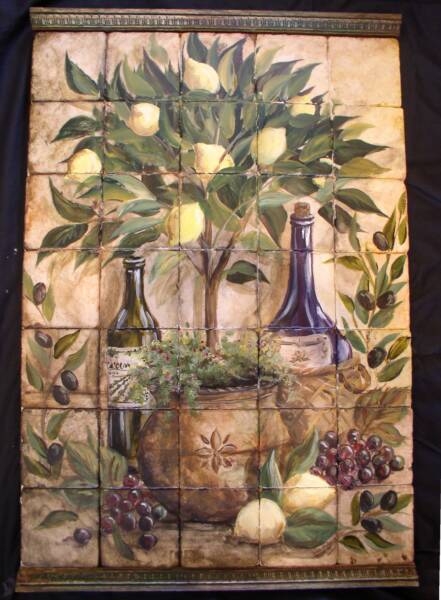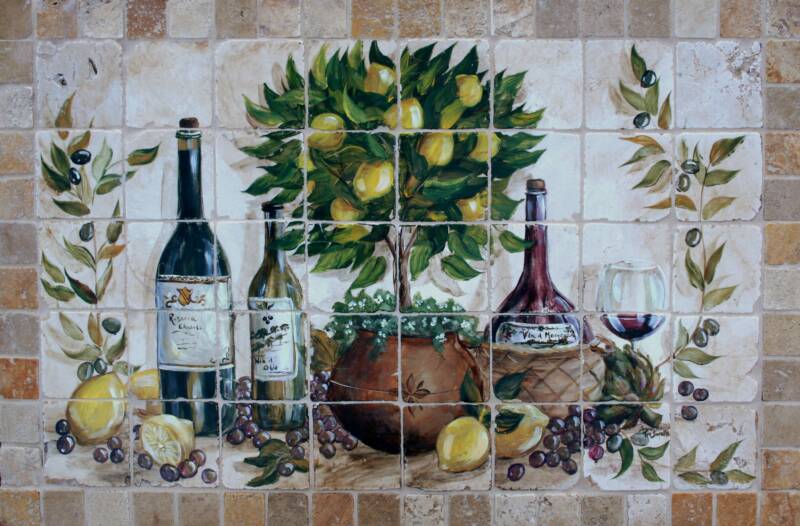 "Italian Lemon Topiary Tall"

20"x28"  on tumbled marble 4" tiles

$975  (2" framing tiles not included)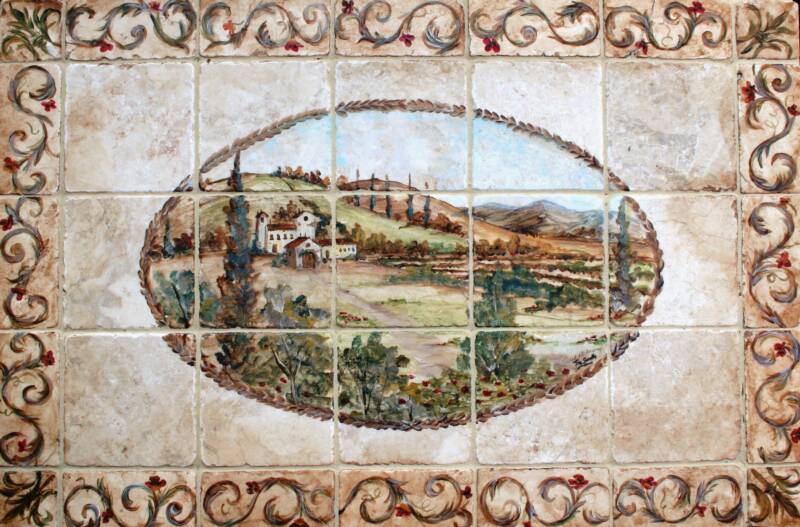 Tre Sorelle Studios hand-paints each tile mural to your exact specifications. We paint on tumbled stone, marble, travertine, or slate. Our heat-cured enamels are baked onto the stone and are washable, scrubbable, heat-resistant, scratch resistant, and perfect for your custom kitchen backsplash. Each tile mural can be customized to your exact needs by color, size, theme, etc...

Each mural project is hand-painted to order by one of the three sisters, so please allow 4-6 weeks for delivery. We add our unique artistic touch to each piece of tile, and guarantee your satisfaction.

For custom pieces, we can email you photos upon completion before shipping to make sure that you are happy with colors, composition, etc...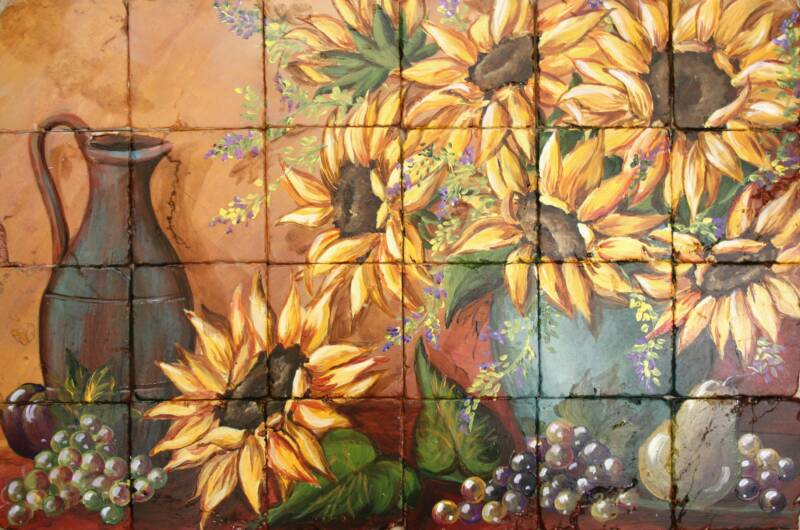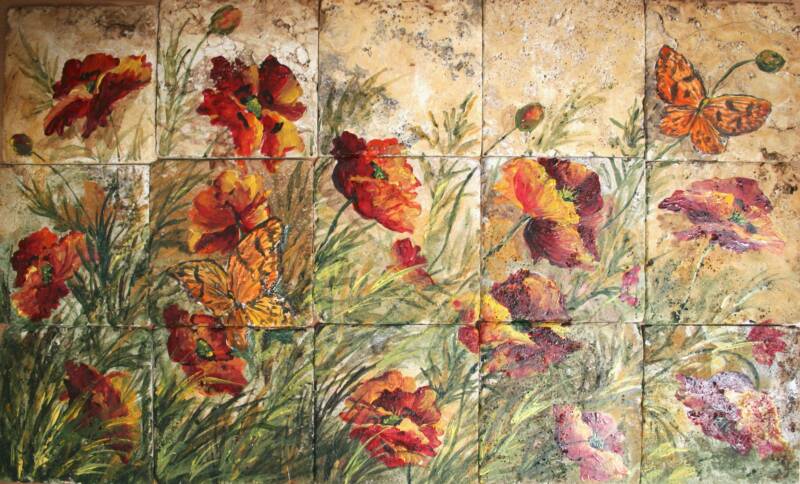 "Sunflower Still Life" Tile Mural

16"x24" on Tumbled Marble

Price $910

"Poppy Meadow" Tile Mural

18"x30" on Tumbled Gold Stone

Price $965

Tre Sorelle Home Designs will create a hand-painted stone tile mural to your exact needs. We paint on 4" or 6" tumbled stone usually (however, we can use large or smaller natural stone if you supply the pieces). If you don't see a design here that you are looking for, we will be happy to create a
custom tile
mural just for you. We can work from photographs, general design concepts, color swatches, building materials, or just an idea that you might have. Our tile designs range from Old World European,
Tuscan
, French Country, English Country, Asian, Chinoiserie, Wildlife, Mountain Lodge, Desert Southwest, Vineyards, Wine Still Lifes, Fruit and Vegetables, Herbs, Topiaries, Nautical Beach Designs, Tropical and Mediterranean, Floral, and many other designs.
We can also develop a design that evokes the classic European tile genres or Majolica, Deruta, Portuguese Tile Murals, Spanish Folk Murals, Italian Ceramic Tile Murals, even Mexican  and Santa Barbara Tile Designs.

We are also happy to develop customized accent tiles to compliment your mural. Our tile insert accent pieces can be used for vanity borders, shower inserts, backsplash inserts, butler pantries, wine cellars, garden walls, fountains, tabletops, even stair risers.

Our tile murals are completely suited for your kitchen backsplash right above your range top! Our painted stone tile murals are washable and heat resistant.

Keywords: Tile Murals, Kitchen Backsplashes, Decorative Tile, Affordable Tile Murals, Hand-Painted Tile, Tre Sorelle Tile, Floor Medallions, Tile Mural, Stone and Marble Tile Murals

Tile Mural, Tile Murals, Tile, Tile Murals.....Tile Mural....Tile Murals.....Decorative Tile......Tile Murals.....Tile....Painted Tile.....Kitchen Backsplashes.....Backsplash Tile....Murials.....Murels....Tile....Marble Tile....Stone Tile........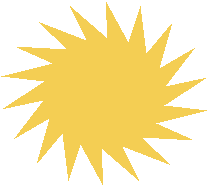 Many of these beautiful tile murals are also available on printed tile for a faster, more affordable option.

Browse to see all of our beautiful Tile Murals or select a category link on the right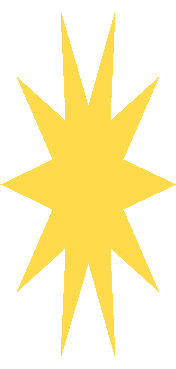 FREE SHIPPING ON ORDERS OVER $500

ORDER NOW!