From the Studios of Tre Sorelle
by Sarah Linkey McAnerny on 01/28/16

Watercolors need a lot of prep and planning, but the best ones usually come about by a series of "happy accidents", all we as painters can hope to do is to try and harness the chaos of water, and turn it into something beautiful. I love that Watercolors are back in style, they were my first love, and the technique that made me fall in love with painting when I was a sophomore in high school. Check out and like our Facebook page, Tre Sorelle Studios or follow us on Instagram @tresorellestudios for the finishing touches and final results..
To see the videos go to instagram: https://www.instagram.com/p/BBEhszfQT7R/?fb_action_ids=10208494933080308&fb_action_types=instapp%3Atake&fb_ref=ogexp&fb_source=other_multiline&action_object_map=[1031349670271288]&action_type_map=[%22instapp%3Atake%22]&action_ref_map=[%22ogexp%22]What do you think?

by Sarah Linkey McAnerny on 01/19/16
TREND WATCH: Pinks/Golds/Blushes ?#?ThisAintYourMamasRoseandBlueGooseandHeartsArt?
We've just returned from the first of the early wholesale markets, in Atlanta at AmericasMart. We always get a snapshot of trends and what will be hot at retail this year in 2016 and 2017. With the new Pantone Colors of the Year (Rose Quartz and Serenity Blue), manufacturers were given carte blanche to pursue the spectrum of Pinks and Blush in all of it's vibrancy and softness. It was complemented with the energetic fire of Metallic Golds and Champagnes, creating a stunning, glamorous effect. It is definitely a fresh take on the Rose color that I remember from my mom's embroidered wall hangings of yesteryear... In home design, I see pinks being used as an accent color to a wider spectrum of classic neutrals, metallics, and jewel tones, giving traditionally heavy design, a light, fresh, springtime feel. Market had the optimism of springtime and it's manufacturers were in full bloom.. Check out what we've been up to in our studio, we're loving the softness of Watercolor Florals, but just to show you we can do it all, we always adore playing around with graphic applications of Gold and Metallic leaf...two cool looks from one vibrant design house!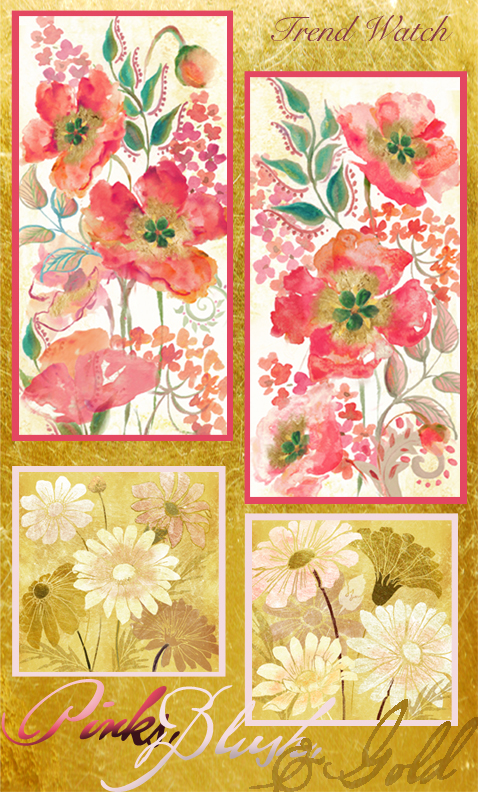 by Sarah Linkey McAnerny on 01/17/16
Over the next few days check us out for some of the latest and most exciting trends that we saw at the Atlanta Gift Show..if you are a licensee contact me for sell sheets and an advance preview of our latest 2016 collections.. This collection is called "Indigo Bamboo"..pattern and the serene China Blue/Indigo colors were prevalent at market, and the gorgeous watercolor bamboo with Asian influence is a natural progression from the gorgeous Bohemian patterns that have been so hot all last year..Serenity NOW!!!